REDKEN SHADE CHARTS
REDKEN SHADE CHARTS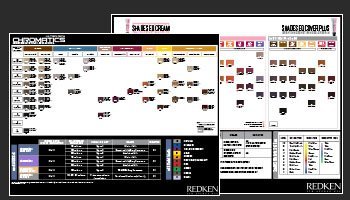 From Shades EQ to Color Gels Lacquers, create your best work by referencing or printing these shade charts for your salon. Download from the selection below or visit the new and improved Redken Asset Library for all updated Redken shade charts. Find all PDFs under Business Tools.
REDKEN SWATCHBOOKS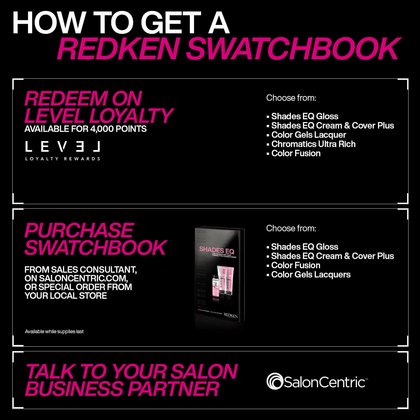 Looking for Redken Swatchbooks? There are a few ways to order:
REDEEM ON LEVEL LOYALTY: Visit levelloyaltyrewards.com to redeem points for your desired Redken Color Swatchbook.
PURCHASE A SWATCHBOOK ($50): Purchase on SalonCentric.com, order from a sales consultant, or place a special order from your local store
PURCHASE A REDKEN NEW USER KIT: For customers new to the Redken Color range, purchase a new user kit from SalonCentric and receive a coupon to redeem a Swatchbook of your choice on Level Loyalty. Welcome email with coupon arrives post-purchase.
For our Digital Swatchbook, download Redken Style Station App to compare swatches on your phones and tablets.
SHADE CHARTS BY PRODUCT LINE
Download Shade Chart
Download Mini Shade Chart


Shades EQ Bonder Inside
Download Shade Chart

Download Shade Chart


Color Gels Lacquers 10 Minute
Download Shade Chart

Download Shade Chart
Download Mini Shade Chart
Download Refresh Chart

Download Shade Chart
Download Mini Shade Chart

Color Camo

Download Shade Chart


Chromatics

Download Shade Chart
Download Mini Shade Chart

Chromatics Ultra Rich

Download Shade Chart
Download Mini Shade Chart

Download Shade Chart

Blonde Idol

Download Shade Chart